Future of Delivery in the UK: Trends and Predictions
Events from last couple of years have had a profound effect on the delivery sector both here in the UK and on an international scale. The pandemic may have hidden some of the initial issues created by economic pressures but with the whole world now once again open there is nowhere for the issues that this has caused to hide.
The future of delivery may be in for something of a bumpy ride, but there are some emerging trends and advances in technology that could certainly help to shape the future of delivery in the UK. Some of these could soften the blows that have been dealt to the industry over the last couple of years.
The impact of Covid-19 on the delivery industry
In order to fully understand the emerging trends in the delivery industry, it is important to look at the effect that Covid-19 had on logistical services. In the short term, logistics companies were involved keeping the essential supplies flowing that would help the UK through the pandemic. At the same time, we saw the beginning of a mass shortage of delivery drivers due to economic factors, so those with HGV licenses were in higher demand. With drivers retiring and no driving tests being conducted, this further complicated matters.
As we emerged from the pandemic, things became a little easier for the supply chain. However, now a shortage of HGV drivers then was joined by a shortage of shipping containers (the after-effects of the pandemic in overseas countries), and this meant that there were fewer goods coming into the country for delivery.
It is widely expected that logistical services will be in a period of recovery until 2025, and the long-term effects of the last couple of years will have a lasting impact on supply and demand chains here in the UK. Of course, it isn't all doom and gloom. There have been some interesting trends that have emerged that look like they are here to stay.
Market size and forecast
There has been an unprecedented rise in the prices of many items, which has, in part, compensated for the lower levels of activity that took place during the pandemic. This, however, has driven inflation for users of logistical services as they have adapted to increases in issues surrounding transport. Forecasters predicted that there would be a 4% rise in the industry in 2021, placing it at around £75.4 billion, as it sought to recover from the 2020 decline of 11%.
The forecast for the next few years suggests that recovery, in general, will be slow, with a growth rate of just 9% by 2026, which will place the market in a position where it will only be 2% larger than the figures for 2019. Air freight is predicted to be looking at a much greater growth rate over the course of the next few years, with a possible rise of 26% by 2026.
The trend towards increased deliveries
One significant trend that we have seen emerge from the pandemic is the way in which people have chosen to change their shopping habits. Online grocery shopping was already on the increase prior to the pandemic, as people looked at ways to be more time efficient in their busy lives. However, 2020 saw an unprecedented increase in the number of households who choose to have groceries delivered rather than go to the supermarket themselves. In 2019 deliveries were worth £11.8 billion, a figure which rose to £20.8 billion in 2020 and saw a further significant rise to £25.1 billion in 2021. Since 2022 these figures have continued to rise instead of returning closer to pre-pandemic levels, and it is believed that by 2025 they will have risen further to around almost £30 billion.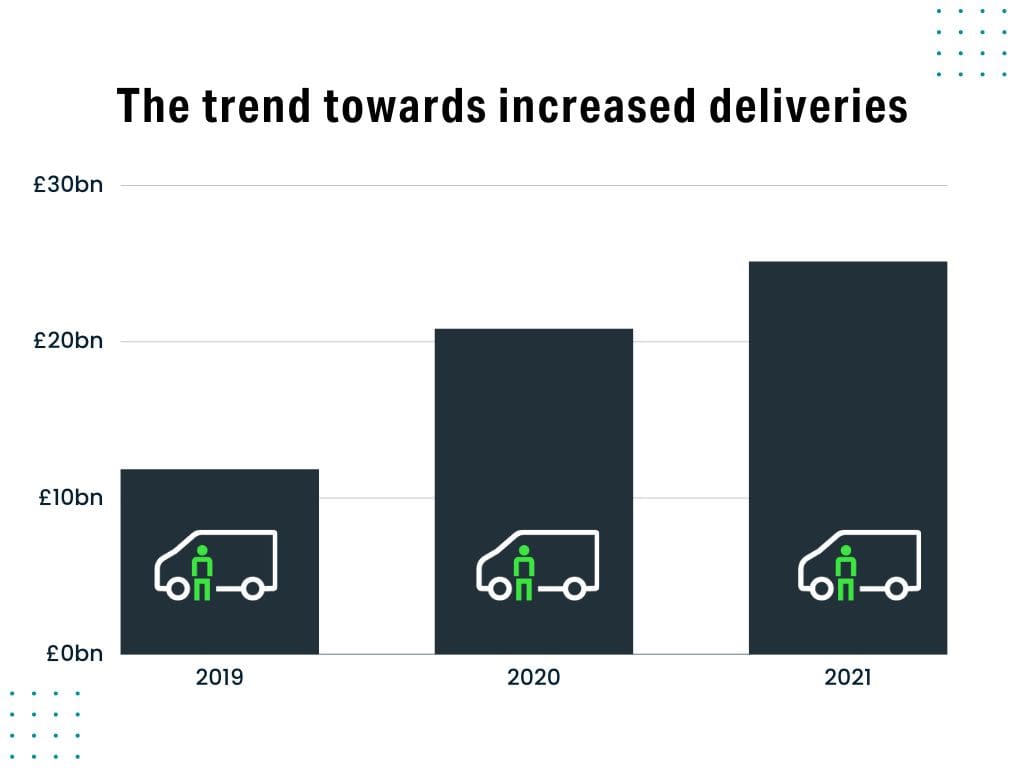 This trend was not just confined to grocery deliveries. With non-essential shops closed during the first period of the pandemic, household items and clothing were among the items that became increasingly more common for people to order via e-commerce sites for home delivery. This led to many online retailers limiting the number of customers that could purchase in any 24-hour period because they simply didn't have the logistics infrastructure in place to deliver significantly greater numbers of orders. During 2020 just over 50% of the UK population purchased clothing and footwear online.
E-commerce clothing trends
The trends that were set as a result of necessity during the pandemic appear to be taking the clothing sector in the UK in a completely different direction. An increasing number of customers prefer to buy online, try on in the comfort of their own home, and then take advantage of the free returns offered by sellers – often allowing for collection from home rather than requiring a trip to the post office. This means that more deliveries and pickups are being made by delivery companies, and therefore, there is an even greater need for drivers in the sector.
Same-day delivery is another trend within the clothing industry that is becoming increasingly popular. People want something as close to the experience of visiting a physical shop but with the convenience of not having to leave the house. Same-day delivery saves consumers time and fits in very well with the increase in the number of people working from home who can be available for deliveries.
Just over half of retailers – 51% – currently offer same-day delivery, with 65% planning to offer this delivery option to their customers within the next 2 years. This trend appears to be the strongest amongst those aged 18-34, with a staggering 56% expecting companies to offer same-day delivery. Perhaps surprisingly, in these times of cost-of-living hikes, 61% are prepared to pay more for the privilege. And of the 80% of shoppers who want same-day delivery on any items that they order, 61% actually want their items to arrive within a time frame of 1-3 hours from ordering.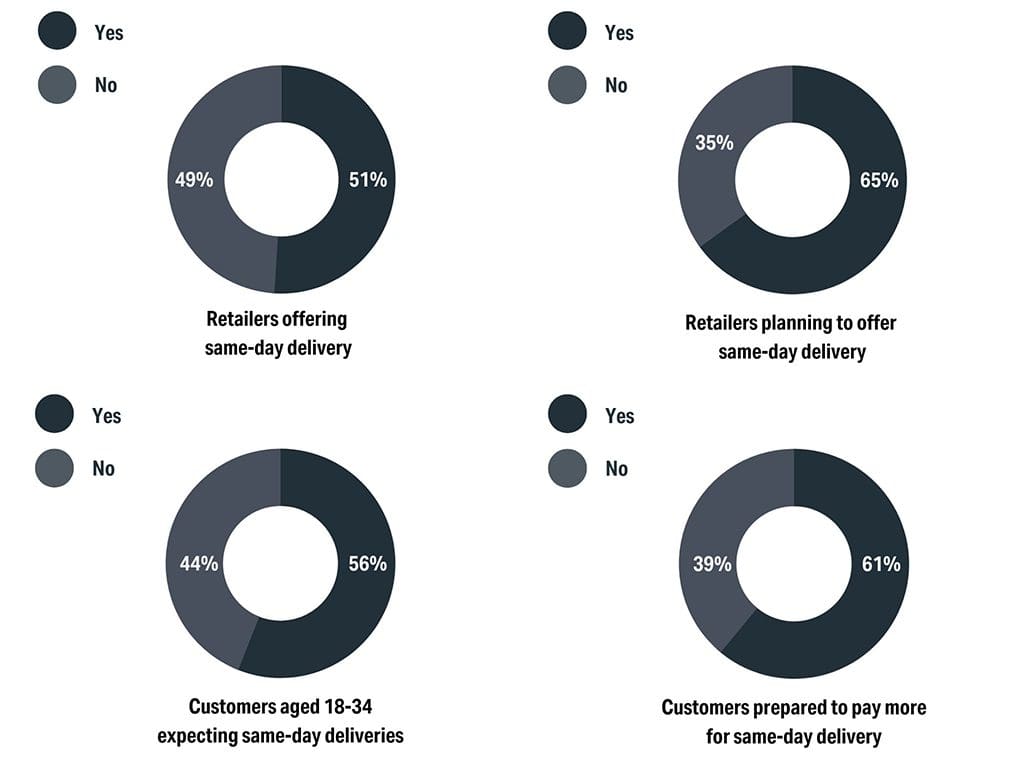 This trend, which looks set to increase over the next couple of years, might be seen as a potentially alarming one for bricks and mortar shops. However, for the logistics industry, especially courier companies that are future-proofed for growth, it could undoubtedly be excellent news.