Popular Small Vehicles Used by Same Day Delivery Couriers
Did you know that there are a staggering 2.4 million white vans on the roads in the UK?
Whilst people predominately think of white vans as being the essential vehicle of the same-day courier, it may come as a surprise to learn they are not the be all and end all in the logistics sector, and there is a wide range of vehicles utilised.  In our latest blog, we discover some of the most used for same-day delivery and courier work.
There is a reason why white is such a popular colour, and it goes a little further than the fact that white is the cheapest colour to produce! For a start, white actually hides damage better, it is easier to customise with your company logo – which is why it is often the first choice for a fleet vehicle offering courier services. White also doesn't absorb as much energy from sunlight, making it a much cooler space to spend the majority of your day as a driver and ensure goods in transit are kept in the best condition possible.  In case you were wondering, the second most popular colour is black.
Generally speaking, the most utilised vehicles are the Ford Transit Connect, the Volkswagen Cassy and the Vauxhall Combo – they are extensively utilised for deliveries around the UK, in particular around urban areas where space is limited.  Where there is a requirement for larger sized vehicles, the Ford Transit and Mercedes-Benz Sprinter are popular choices in the medium-sized range of vans.
In more recent times, companies have opted to expand their fleets with electric vehicles (EVs); this is due to government incentives and environmental issues. Popular EVs that are notable are the Nissan e-NV200 and the LDV EV80. These vehicles help companies attain eco-friendly credentials whilst taking care of the environment.
So whilst the van of choice for any same-day courier may well be white, the big question is, what are the most popular courier vehicles you might see on the road?  Our operations Team at DeliveryApp have picked out three in the small vehicle category.
1. Ford Transit Connect – the vehicle of choice for courier services
First on our list is the vehicle that is considered to be the staple option within the courier industry. The overall design of this van may be small, but it is particularly spacious and is the ideal choice for anyone who has plenty of deliveries to make in a single day. It has a payload of roughly 600kg, with larger models offering around 1,000kg.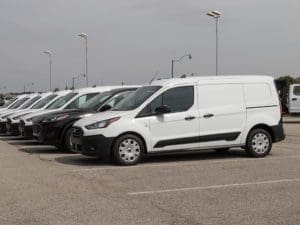 When more space and volume is required, this is a great vehicle choice. The Ford Transit is reasonably priced for courier services, making it a good all around choice. Several larger UK companies in the logistics field have recently added the Ford Transit electric vehicles to their fleet for their ever growing demand for same-day courier services. 
2. Citroën Berlingo – the UK's second most utilised vehicle for a same-day courier
A very popular choice for the courier fleet, the Berlingo offers a spacious amount of room for passengers and goods. If you are carrying heavier or bulky items, then the latter is of importance if you have a colleague with you. They are very reasonably priced second-hand; the price of a new Citroën Berlingo is more than the Ford, but still a popular option.
However, for any courier company looking for a good van, this is one of the go-to choices. Over the last couple of years, the Berlingo has won a number of awards, including 'Best Small Van'.
3. Toyota Prius – the UK's third favourite same-day courier service vehicle
Smaller than the other vehicles on our list, the Toyota Prius is perhaps more suited to completing smaller journeys around town or for companies who deliver parcels that are neither too heavy nor too large. There has been some research which would indicate that the Prius is rather efficient on fuel, with over 50 miles to the gallon. With the price of fuel as it is, then this may well be something worth considering. The Prius is also something of a winner when it comes to reliability and has several handy safety features that make it a good same-day courier fleet option. 
No matter what vehicle you drive as a same-day courier, having DeliveryApp to hand can make sure you maximise and nicely supplement your income by having access to real-time work available on the platform. Why not take a look at the app to see how you can make sure your vehicle is always making money? Our Operations Team strive to ensure that we have the best quality vehicles on the platform, with drivers that strive for exceptional and impeccably-timed service. Have a look at our ever expanding review ratings on Trustpilot, where our customers have given us a rating of 4.6/5.
In our upcoming blog posts, we will expand further into the ever growing spectrum of vehicles on offer for sam-day delivery drivers. We will explore the other small van options along with ones that are considered medium to large-sized vehicles, from the traditional medium-sized transit van through to the Luton and the 7.5 tonne vehicles.