DeliveryApp Certified as a Carbon Neutral Business with Carbon Neutral Britain
Looking after the planet is at the heart of what we do at DeliveryApp; our deliveries have always been carbon neutral, and we have been planting a tree for every completed delivery for over a year. 
We've now gone the extra mile and are proud to announce that we have partnered with Carbon Neutral Britain to measure and offset our carbon footprint, and we are now officially Certified as a Carbon Neutral Business! This is a huge achievement for us, and we're incredibly excited to be raising the environmental bar in our industry.  
Our mission is to be the most ethical delivery technology (deltech) platform in the world through our sustainability initiatives and our fair treatment of people, and this partnership is another completed milestone on that deltech journey.  
Are deliveries

made

through DeliveryApp carbon

neutral?

 
Yes! What this means is that every delivery made through DeliveryApp is now carbon neutral, no matter how large or small. If you are a business who reports on environmental, social and governance (ESG) initiatives, we can support you with E in environmental. Or if you're an individual who wants to ensure their thrifted marketplace purchase reaches them in the most environmentally friendly way possible – we have you covered. 
Who is Carbon Neutral Britain?
Carbon Neutral Britain™ – the UK's Carbon Offsetting Initiative – helps British individuals and businesses make an impact on Climate Change.  
Founded in 2020, their vision is to become a leading Non-Governmental Organisation (NGO) in Britain to tackle the Climate Change Crisis by educating and providing voluntary carbon offsetting to all.  
So far, their projects have already offset over 500,000 Tonnes of CO²e and planted over 3 million Trees, helping stop climate change and providing essential forest habitats for endangered wildlife.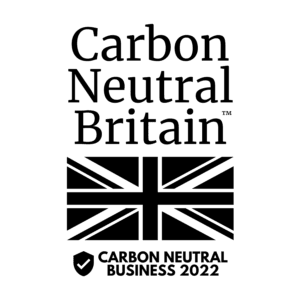 Why are DeliveryApp Carbon Offsetting?
We're not afraid to address the elephant in the room, sadly, logistics un the UK is still a dirty business. Transport accounts for 27% of the UK's greenhouse gas emissions with vans (18%) and HGVs (17%) accounting for over a third of that impact1,2. When you add airfreight, shipping and rail into the mix, moving things around the country isn't exactly good for the environment.  
When the world is facing a climate crisis, we know it's not enough to just reduce our carbon footprint which is why DeliveryApp is the first carbon positive courier service in the UK. This means, instead of just reducing our carbon footprint, or targeting net-zero, our aim is to help move the dial in the other direction, and carbon offsetting is a key initiative where we can make a difference. 
According to Carbon Neutral Britain, increased Carbon Dioxide (CO²e) emissions in the atmosphere are the biggest cause of Global Warming on our Planet. By planting trees and funding carbon offsetting projects via Carbon Neutral Britain, we remove and prevent further CO²e emissions around the globe in the most cost effective and impactful way. 
What

kinds of projects are DeliveryApp supporting?
We know that educating and informing others about our environmental action is extremely important in helping create lasting change, and over the next few months we will showcase the range of global projects we're supporting through our partnership with Carbon Neutral Britain, both here in our blog, and on our carbon reduction programmes page. 
These diverse projects crisscross continents and include the Burgos Wind Farm Project in the Philippines, the Andes Mountains Hydro Power in Chile and the Rice Husk Power Project in Cambodia.  
What

else is DeliveryApp doing to support the environment?
Carbon offsetting and planting trees is great, but we did say that vans account for 18% of transport emissions in the UK!  
And so, we're creating a cleaner and greener fleet. All new drivers and fleets we accept onto our platform we're encouraging them to have ULEZ compliant vehicles. This means they meet the government's ultra-low emissions criteria with Euro 6 engines, which is the environmentally responsible thing to do.   
We want to see our fleet move to emission free vehicles as quickly as possible, but we know that existing technology and infrastructure makes this difficult for our industry. As such, we're looking for ways to reward our drivers using emission free vehicles for every delivery they make, in order to encourage all our drivers to make the change to cleaner vehicles.  
At DeliveryApp, we'll continue to champion initiatives that promote greener vehicles and reductions in greenhouse gasses. This is just one way we're delivering the future. 
Carbon Neutral Britain logo, used with permission by carbonneutralbritain.org
Sources
Statista 2022: Greenhouse gas emissions in the United Kingdom (UK) from 1990 to 2020, by sector
Statista 2022: Greenhouse gas emissions from road transportation in the United Kingdom (UK) from 2000 to 2020