5 Best Electric Vehicles For Couriers
As the courier and logistics industry continues to shift towards being more environmentally aware, making the switch to an electric van offers several advantages. Not only are they better for the environment, but they also provide courier and delivery drivers with a cost-efficient alternative to expensive fuel-guzzling courier cars and vans. As one of the largest contributors of CO2, the logistics and courier industry is slowly beginning to adopt electric delivery vehicles as a solution for reducing carbon emissions. For courier drivers, this means sourcing the right electric vans to continue courier operations as normal.
Electric Delivery Vehicles
Large cars, small electric delivery vehicles and electric vans are often the preferred vehicle of choice for most courier drivers, as they offer plenty of space and higher payloads for parcels and packages. Additionally, most electric vans are CAZ and ULEZ compliant too, which means drivers can benefit from lower running costs and zero congestion charges. Whilst they may seem a little on the expensive side, government grants may be available that can offset up to £5,000 off the cost of the electric vehicle as part of an initiative to get more electric vehicles and electric courier vans on the road.
For those looking to switch to an electric vehicle, we've made it a little easier with our list of the 5 best electric vehicles for couriers, which includes vans and transit vehicles from a range of leading vehicle manufacturers.
5 Best Electric Vehicles
Vehicle Specifications
Naturally, couriers will have different needs and requirements based on the types of deliveries they will be doing, whether it's transporting large or small items, or short or long-distance jobs. As such, after reviewing the range of electric vehicles currently available, we've summarised the key aspects of 5 of the best on the market today in the table below.
Manufacturer
Model
Max Range
(WLTP)
Charging Time
(Up To 80%)
Engine Power
Max Battery Power
Max Payload
Citroën
ë-Dispatch
205 miles
30 mins
136hp
75kWh
1,226kg
Mercedes-Benz
eSprinter
95.7 miles
120 mins
114hp
55kWh
731kg
Ford
E-Transit
196 miles
34 mins
269hp
68kWh
1,758kg
Vauxhall
Vivaro-e
205 miles
30 mins
136hp
75kWh
1,226kg
Nissan
e-NV200
187 miles
60 mins
107hp
40kWh
705kg
Citroen e-Dispatch
As "the ideal partner to meet all your professional mobility needs", the Citroen e-Dispatch Electric van offers practicality with a smooth driving experience. With a 100kW electric motor and torque of 260 Nm from 0mph, the Citroen e-Dispatch Electric has a range of up to 196 miles (WLTP) and a fast charge capability of up to 80% charge in just 30 minutes.
Providing an almost identical mechanical design to the Peugeot e-Expert, this electric van offers two battery options; the 50kWh and the larger 75kWh, both options available with a motor allowing for a top speed of 80mph. Depending on the configuration you opt for, the e-Dispatch provides reasonable carry load limits with a limit of up to 1.262kg and a maximum capacity of up to 6.1 cubic metres on the XL model.
The standard model of the e-Dispatch electric van comes with all the basic necessities including electric and heated mirrors, cruise control, DAB radio, and air conditioning, whilst there's also an array of accessories available to customise your vehicle to suit all kinds of deliveries.
Mercedes-Benz eSprinter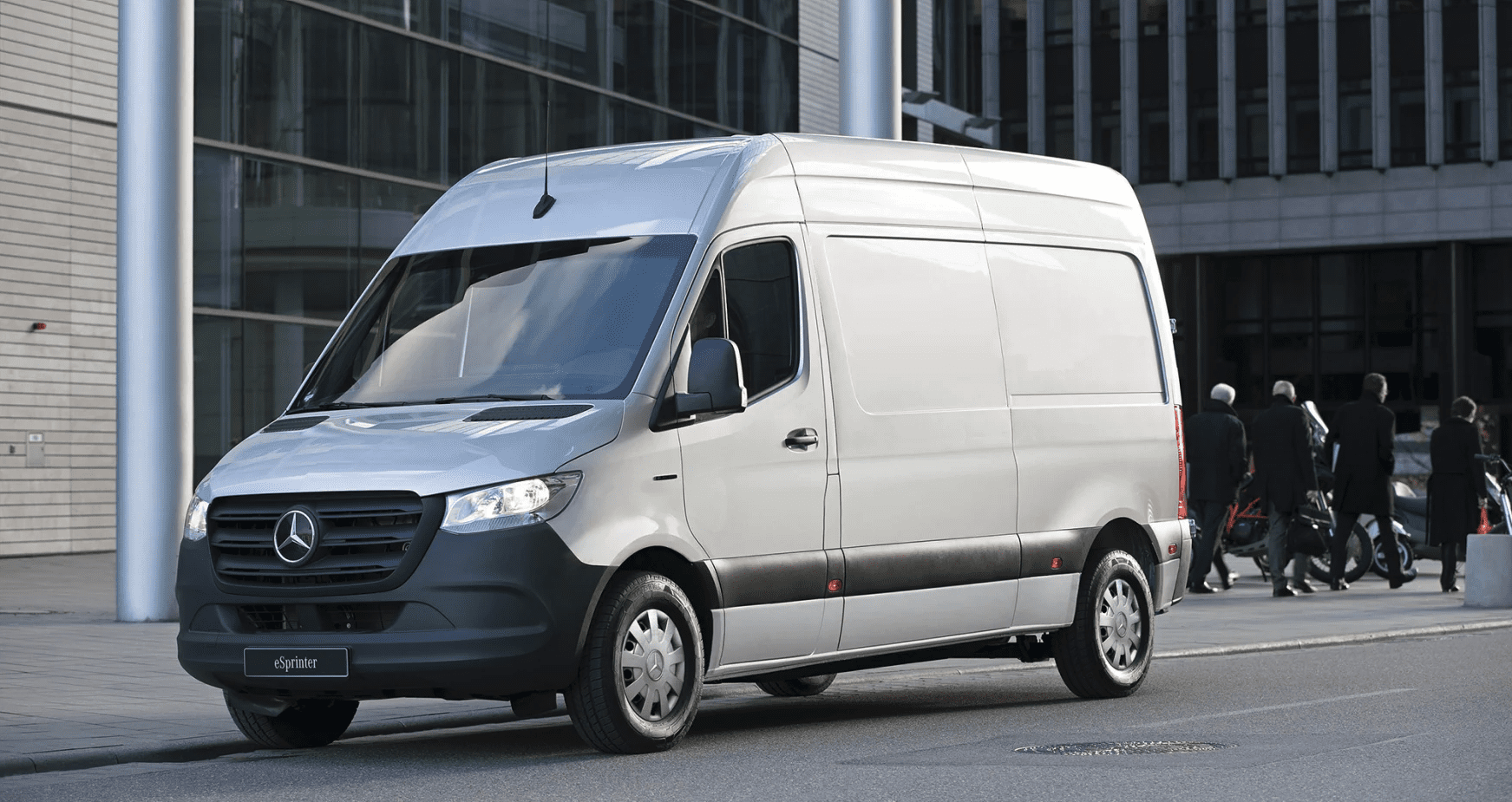 Offering an electric range of up to 95.7 miles, with a cargo volume of 11 cubic metres and a maximum payload of 731kg, the Mercedes eSprinter provides a bit of luxury and spaciousness to the electric vehicle market. With just one size available that's on the larger side when compared to other alternatives, the real benefit is in the load space as the cargo area is easily accessible with thanks to the wide openings of the single sliding door and rear doors that open to 270 degrees.
Mercedes Sprinter vans have continuously been popular with courier drivers, thanks to their comfort and reliability. Now the manufacturer provides an electric alternative available in a number of battery sizes and is equipped a fast-charging battery that provides up to 80% charge in just 30 minutes. However, this is reliant on upgrading to the 80kW on-board charger, as the 20kW charger that comes as standard will take 120 minutes to charge from 10-80%.
With a modest maximum battery power (55kW), power output (114hp), and 295Nm of torque, the eSprinter gains pace gradually and is very quiet when driving to offer an enjoyable experience at the wheel. It is at the top end of the market in terms of pricing, though, since it is a large van with plenty of room for payloads as well as passengers so others may be preferred for the more conscientious courier drivers.
Ford E-Transit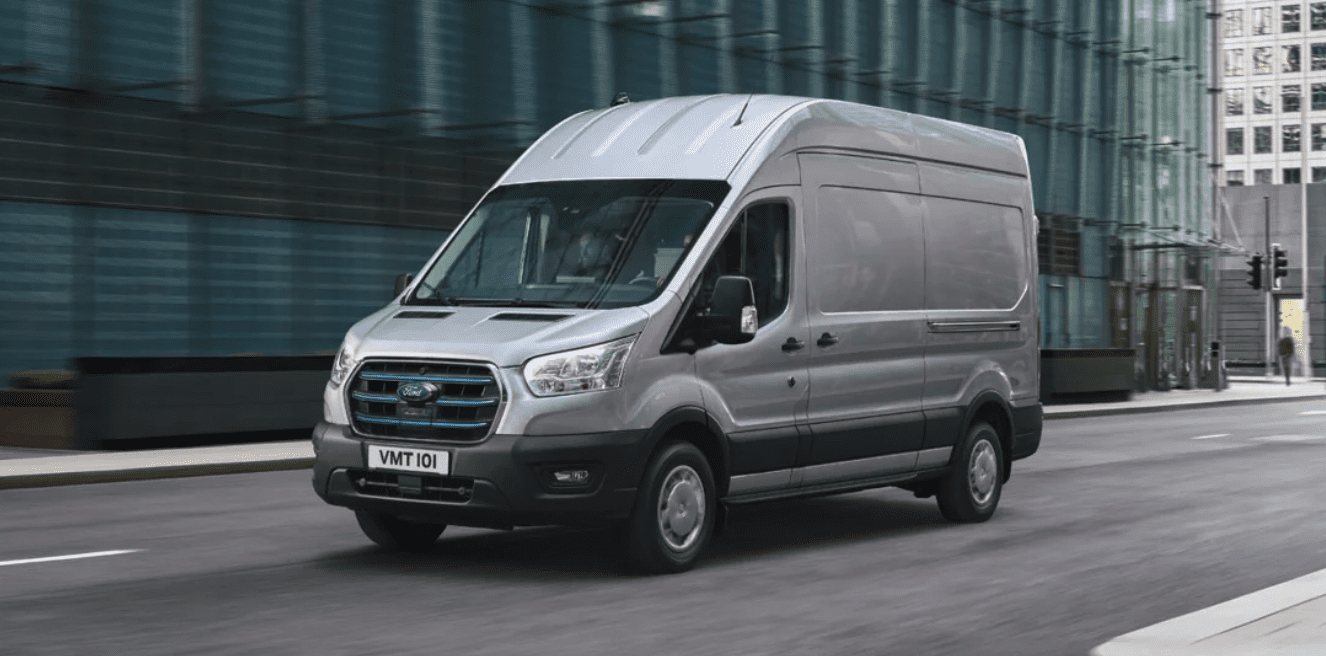 The new all-electric Transit van from Ford is their very first all-electric van and we covered this in another blog post when it was first released. The E-Transit was developed to provide courier drivers with a sustainable and economical alternative to the Ford Transit van, which has become an iconic courier vehicle option over many decades. No longer will you have to worry about congestion charges within low emission zones, as a the E-Transit is fully CAZ and ULEZ compliant.
With a massive 269hp and a max battery power of 68kWh that provides a driving range of between 166-196 miles, the E-Transit offers fast charge capability that takes just 34 mins to charge from 10-80%.  Boasting a maximum payload of 1,758kg and up to 15.1 cubic metres of cargo space, this impressive new release from Ford demonstrates just how electric vehicles are set to advance and improve with time.
Available in two height and three length variations and 25 different configurations to suit all courier drivers, there's plenty of ways you can customise your Ford E-Transit to make it the perfect vehicle to fulfil deliveries of all kinds.
Vauxhall Vivaro-e
As an award-winning electric vehicle, the Vauxhall Vivaro-e shares similar performance specifications as the Citroen e-Dispatch – among others – since its engineering and most of its design come from the same family of vans following the PSA Group's purchase of Vauxhall in 2017.
With an impressive range of 205 miles and 75kWh maximum battery power, this medium van has quickly become a popular choice for fleets and delivery drivers looking to make the switch to electric vehicles. This is especially so when you consider that it takes around 30 mins to rapid charge up to 80%, meaning couriers can spend more time on the road rather than losing time in the day waiting for it to fully charge.
Whilst the maximum payload is 1,226kg the cargo space accommodates a maximum of 6.1 cubic metres, so it's not the most spacious of vans. However, this can be increased slightly to 6.6 cubic metres on the higher spec models as it allows for loading through the bulkhead. Sitting at the top of the marketplace for electric vans, Vauxhall's answer to an electric van was widely welcomed in 2020 and has since seen sales soar with many placing this on their list of the most popular electric van owing to its competitive price point.
Nissan's E-NV200 electric van
For courier drivers looking for smaller electric vehicles, Nissan's e-NV200 provides the ideal compact, small electric van. Despite its smaller design the battery provides an impressive range of up to 187 miles, whilst also being capable of achieving charge in rapid time of 10-80% in 60 mins. With an engine power of 107hp and a max battery power of 40kWh, the Nissan e-NV200 offers good value for money and low running costs.
Further, courier drivers can benefit from good volume and spaciousness for a compact van, with a cargo space of 4.2 cubic metres and a maximum payload of 705kg. It's grown to become a highly popular electric vehicle for short journeys and inner-city driving, as it's nippy feel stems from the 254Nm of torque that's generated from its electric motor.
Driving Electric Vehicles with DeliveryApp
With these and more it has never been easier to make the switch to an electric vehicle. As a courier driver, there are endless options and benefits for doing so. At DeliveryApp we also reward our drivers who opt to complete deliveries using hybrid or electric vehicles! So what are you waiting for? Make the switch today.