The UK Side Hustle Explosion
Recent years have seen the concept of the side hustle explode across the UK. And with innovative technological developments combined with an eagerness to earn more money, this trend is looking as though it will continue. But firstly, what makes a good side hustle?
What is a side hustle?
A side hustle is a way for anyone to earn additional income outside of their main job, usually by doing something they find interesting or something which fits easily into their existing lifestyle. Ultimately, side hustles are pursued to aid our income, although some people do eventually turn their side hustle into a busy and successful business.
The rise of the gig economy and the increasing prevalence of online platforms that allow individuals to easily offer their services and sell products have made it easier for people in the UK to start and grow their own side hustles.
What's led to this explosion in the UK's desire to hustle on the side?
Data provided by Aviva shows that one in five (19%) adults in the UK have started a 'side hustle' since March 2020. What is driving this surge of interest in modern times?
The ultimate and main reason boils down to the rise of the gig economy. This growth has given people the opportunity to find flexible working opportunities which provide additional income.
Combined with the explosion of online platforms such as Uber, Airbnb, Just Eat etc., that require people to function, without lots of training, has only encouraged and incentivised the gig economy further.
In addition, with the current uncertainty in the UK economy, many people with a limited or single income are looking at additional opportunities to make ends meet. Due to this, it's no wonder the side hustle has seen rapid growth as more and more people look for ways to supplement their income and achieve financial stability.
Furthermore, pursuing a passion or interest that you can monetise with the aid of an app or other tech innovation, is driving a growing number of the many who may feel unfulfilled in their current job or who are looking for a way to make a difference in their community. Sites like Etsy are a good example of this, for those who have creative interests.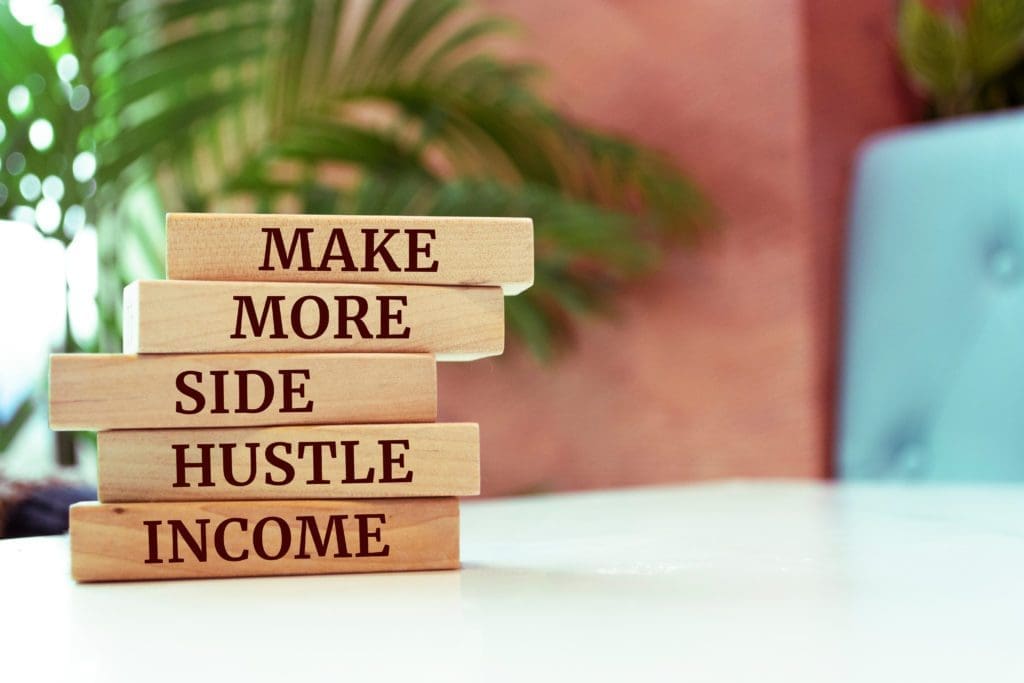 Popular and common side hustles
There are many successful side hustle opportunities in the UK, but when choosing your hustle, ensure that you factor in your skills, the resources you have available and of course your interests. For example, a car is a valuable resource that could be used.
But be mindful of the side hustle opportunities you see online that promise a lot, but may actually pay pretty little.
A third (30%) of employees say a side hustle has simply enabled them to make ends meet (sage.com – December 2022) , be sure to research your hustle before investing your time and money.
There are plenty of opportunities to make a good second income, data from sage.com shows that 69% of employees claim their second job adds value to their lives and makes things more interesting. (sage.com – December 2022)
DeliveryApp Technology
As an innovator of delivery technology (deltech), DeliveryApp have UK wide opportunities available for anyone looking for a side hustle income from courier work. Even if you have never driven professionally before, if you have a car or van it's easy to get started.
Here are just a few of the advantages to working as a self-employed courier driver:
Flexibility: Choose the hours and dates you wish to work, how's that for flexibility? DeliveryApp provides you with the opportunity to set your own schedule and work as much or as little as you want. This makes it a good option for people who have commitments or who require a more flexible work arrangement.
Income potential: Depending on the hours you work and rates, a courier side hustle has the potential to provide a significant source of additional income.
Independence: A courier side hustle allows you to be your own boss and be in control of your own business. This can be a rewarding experience for many people.
Opportunity to learn new skills: Running a courier business can require you to learn new skills, such as how to manage a budget, how to market your business, and how to build and maintain good relationships with clients. These skills can be valuable in any career.
Opportunity to meet new people: As a courier, you will have the opportunity to meet and interact with a wide range of people, which can be a fun and rewarding aspect of the job.
How to become a courier in the gig economy
If you've bought into the idea of independence and the flexibility offered by working as a courier, as well as the opportunity to be your own boss, then you'll want to get started.
Before you start, be aware that not all courier work is the same. For example, at DeliveryApp if you choose to accept multi-drop jobs, our drivers never have more than a very achievable max of 65 drops in once day for a flat fee. However, some other courier jobs may require you to do more than 100 drops, with payment depending on how many of these are delivered.
The essentials to becoming a courier:
A suitable car: You will need a suitable car, bike or van to transport goods, parcels and packages. The car, bike or van decision will depend on the type of courier services you plan to offer and the type of items you will be delivering.
Vehicle Insurance: You will need insurances to cover your vehicle and protect yourself in the event of an accident or other unforeseen event. DeliveryApp offer pay as you go Hire and Reward insurance in app for drivers to choose, and cover Goods in Transit insurance for cars.
Driving Licenses: Depending on the type of vehicle you want to drive and services you plan to offer; you may need certain licenses.
Protective materials: You may need to have a supply of protective materials, such as bubble wrap, to properly protect the items you are delivering, or cloths to protect your car or small van. If you go for a larger vehicle, you'll need straps to ensure any bulky items can be secured before embarking on the journey.
Smart phone: You will need a reliable way to manage deliveries, communicate with your customers and stay in touch with them throughout the delivery process. At DeliveryApp all this can be done through our app, download our app now (App store/Android)  and let us take care of all these aspects for you.
Professionalism: As a self-employed courier, you will be representing your business and interacting with customers on a regular basis. It is important to maintain a professional demeanour and build and maintain a positive reputation by giving good customer service.
Self-employed courier start-up
Along with the above essentials, you should also consider looking at potential work before you embark on your business venture.
Like many new businesses consider researching your market area. Are courier services already prevalent in your area, and if so, have you room to compete? And what type of courier or delivery service do you want to provide? This factor will help you to tailor your courier services to meet the needs of your target market.
DeliveryApp simplifies this, we do all the hard work finding jobs for you. So, there's no need for a huge marketing budget, or daily admin as DeliveryApp does it all.
UK courier demand
There is a strong demand for courier work here in the UK, as there are a good number of businesses and individuals who rely on courier services to transport parcels, goods and packages.
The demand for courier services does vary depending on several factors, such as the state of the wider economy and the level of e-commerce activity in a particular area. Generally, areas with a high concentration of industry and university towns, usually have a higher demand for self-employed drivers and courier services.
A courier driver essential for guaranteed work across the UK, is DeliveryApp. Download and register to let us connect you with work in the areas of your choice.
Download our app now to get started!